You are here: Home > August 2008 > We Vibe Review From A Male Perspective
We Vibe Review From A Male Perspective

When the We-Vibe landed on the doorstep, I didn't quite know what to expect. It's a vibrator for women although it says it can be used during sex.
We took it for a test drive (female perspective is here) and here's what I thought about it.
First Impressions
The packaging looked nice. It explains everything about the We-Vibe such as it's uses and technical data.
In the box you'll find the toy, a case, a quick start guide and a charger. There was a bit of charge in the vibrator when it arrived but I boosted that before Mrs Sex Toy Sofa could get her hands near it!
It's easy to turn on and off and it has two pre-set speeds.
Men & Sex Toys For Women
There's usually a preconception in men that sex toys are a threat. The rabbit vibrator is essentially a long shaft with bunny ears that vibrate over the clit. It's probably longer than most men and can last as long as the batteries (which is also probably longer than most men).
But rather than trying to replace men, the We-Vibe tries to engage men and women. First and foremost it's a sex toy for women. It vibrates inside and out resulting in orgasms. So where do men fit into this?
Essentially, the We-Vibe turns your cock into a vibrator! Here's how it works.
Your or your partner slides half the We-Vibe into her vagina. The other half curves around the outside and stops above her clitoris.
Turn it on and the motors in the toy inside and out start vibrating. This means the inside of her vagina vibrates so you get your real life vibrating pussy!
You slide your penis into her pussy and have sex as normal. As your penis touches the We-Vibe, the vibrations run along your penis as well as the inside of her vagina meaning your cock vibrates as well.
What Does It Feel Like For Men?
I must admit, I didn't expect to feel anything. I imagined it would be uncomfortable sharing a vagina with a sex toy.
But it wasn't how I imagined at all. The part of the vibrator that sits alongside my penis in the vagina is only 1 cm wide which means there's plenty of room for me!
The sensation is similar to that of a vibrating cock ring. It's very pleasurable on both speed settings. The vibrations for me provided me with a stronger orgasm with tighter squeezes of my muscles as my cum spurted out. It was an intense orgasm for me but nothing like Mrs STS's!
Summary
Is It Any Good?
Let's not beat around the bush. This toy is more for her than for him. Having said that, it is designed with both couples in mind. No other sex toy allows for sex at the same time as using it, so the We-Vibe offers a unique feeling.
It can be intimidating for some men to come into contact with sex toys but this is designed for both partners. If you have used a cock ring before, you'll enjoy using the We-Vibe more.
Who Is It Suited For?
Men who know what their women want. If you want to buy a sex toy as a Christmas present, an anniversary present or even as a spontaneous gift, you won't go wrong with the We-Vibe. She'll appreciate the fact that you are considering her feelings during sex - that'll earn you Brownie points in the bedroom!
Do I 'Need' It?
You probably don't but she definitely does! Together, you'll both have more powerful orgasms and you'll both be able to share a sex toy, a concept that is very new in the world of sex toys.
Should I 'Want' It?
If you are a curious chap who likes to experiment with new things in the bedroom, this is for you. If you are intimidated by sex toys, this is perhaps not for you. If you are intimidated by the idea of the We-Vibe, remember that it's designed for you both. It doesn't hurt, it feels different to begin with.
If you use (or have used) a cock ring during sex, the We-Vibe is a walk in the park.
Price Comparison
Here's the latest prices we've found in our we vibe price comparison, helping you to find the cheapest sex toys:

---
If you have a Twitter account please follow us at @SexToySofa to keep up-to-date with the latest news and sex toy reviews!.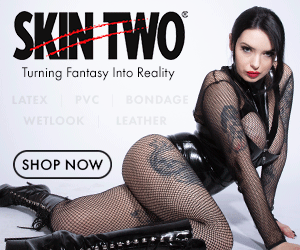 Sign Up For Our Free Newsletter!
Just tell us your first name and email address and we'll keep you up to date with news, reviews and competitions. It only takes a few seconds!
We never sell your details or pass them onto anyone. We don't spam either. We only need your first name and this is kept private too!
By signing up, you agree to our privacy policy and prize draw terms.